Churchwide Time of Prayer & Fasting

And suddenly there came from heaven a sound like a mighty rushing wind, and it filled the entire house where they were sitting.
Acts 2:2
To reset and realign ourselves with God, we take time at the beginning of each year to fast and pray. Join us as we place God at the top of our year, committing to making Him our focus throughout 2022.
This page will serve as your guide towards a successful fast. Updates will be made frequently with various tips and resources that will help you get the most from your fast.
Interested in receiving updates about our daily prayers, and messages of encouragement throughout the fast? Click below to sign up!
The sanctuary will be open Mon - Thurs 12 PM - 3 PM throughout the fast for self-paced prayer. All are welcome to come for a time of prayer and reflection. Please enter through our church office doors off of Dussel drive.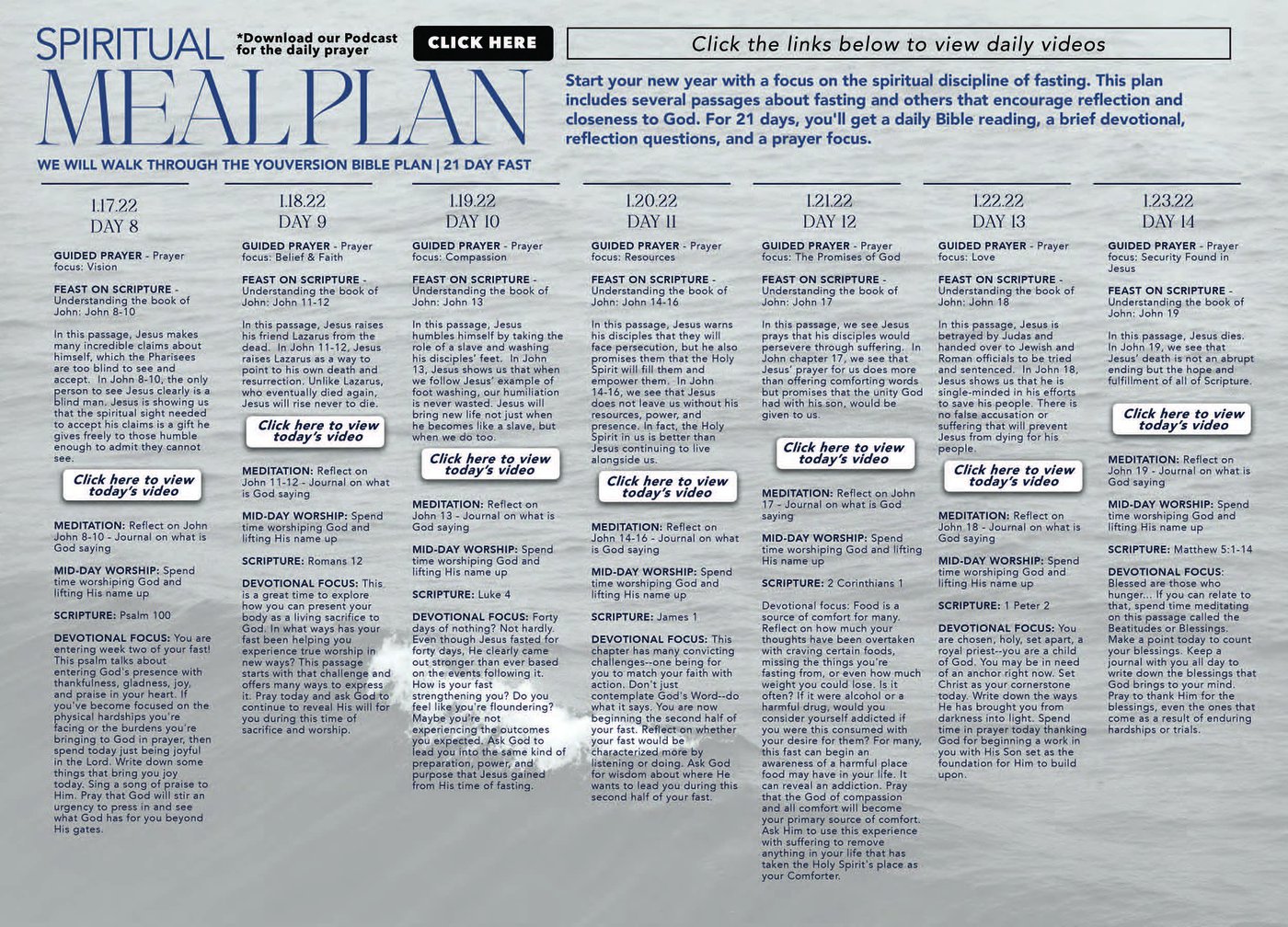 What is a Fast?
How you start something sets its trajectory and plays a large part in its overall success. We want to dedicate a portion of time at the beginning of the year to intentionally pursuing God corporately and individually. Throughout scripture, we see men and women entering into times of prayer and fasting.
Time spent fasting is intended to draw you closer to God, while removing distractions, and relying on God to provide you with sustenance. We pray that you will experience God in new and unfiltered ways during this time. We believe your faith will grow more resilient as a believer through this corporate time of fasting and prayer.
It has less to do with less food and more to do with removing the noise and the distractions from your life. This helps to hear God more clearly. It is about disciplining yourself to focus more on God and less on yourself.
During a fasting period, focus on listening to Jesus, meditating and feasting on scripture, and seeking more of His presence through prayer and worship. Your expectation will increase as you become more spiritually aware and responsive to the Spirit through this time.
Why do we fast, and what is the purpose?
When the Bible refers to fasting, it's all about food and restricting all or some foods for spiritual purposes. Not only does fasting pertain to our eating habits, but it is also about our spiritual life as believers. Without altering your spiritual life, you would merely be dieting. While you may lose weight during this time, that is not the objective when fasting.
Show gratitude throughout your fast
We should be grateful for this time we can spend developing a deeper and stronger relationship with God. In Numbers 11, you'll see that the Israelites spent their time groaning and complaining about the food they were unable to enjoy.
Start each morning showing gratitude and thanking God for your ability to understand Him more intimately and for the many ways He is and has provided for you in your life.
1 Thessalonians 5:16-18 | Rejoice always, pray continually, give thanks in all circumstances; for this is God's will for you in Christ Jesus.
Do not rush into your fast
Be intentional about what you eat just before a fast. We suggest that you eat smaller portions of food before heading into a time of fasting. As tempting as it may seem to load up on the desserts and sweets the day or two before your fast, it will only cause you to crave it even more while you abstain. Three days before beginning, make the switch to eating raw fruits and vegetables.
Think about your spiritual aim is during this time. It is helpful to enter into this time with a focus, whether it's for your family members' salvation, your finances, a deeper relationship with God; whatever your focus is, you should identify that beforehand. Establishing a goal will help fight back against the temptation to stop midway through the fast. Be sure to read your bible and pray while you plan your fast.
Preparing Spiritually
Confess your sins to God. Ask the Holy Spirit to reveal areas of weakness. Forgive all who have offended you and ask forgiveness from those you may have offended (Mark 11:25; Luke 11:4; 17:3-4). Surrender your life fully to Jesus Christ and reject the worldly desires that try to hinder you (Romans 12:1-2).
Preparing Naturally - what can I eat and drink?
During the 21-days you are to only eat fruits, vegetables, legumes, whole grains, nuts, and seeds. Avoid "choice foods" such as meat, dairy, and sugars.
All fruits and vegetables. They can be frozen, dried, juiced, or canned. (Fast Tip: eating fruits and vegetables with more color is better for you).
All nuts and seeds. If you're feeling hungry? Grab a serving size of mixed nuts, or try eating sugar-free nut butters such as peanut butter or almond butter. You may also want to try tahini (sesame seed paste). (Fast Tip: Nuts have a higher fat content, which satiates hunger pangs).
All legumes. Legumes are black beans, kidney beans, lentils, chickpeas, white beans, etc.
(Fast Tip: Incorporate hummus when meal planning. Legumes significantly replace essential vitamins and minerals such as iron, which is why you should try and consume them throughout your fast).
All quality oils, such as olive oil, canola, coconut, peanut, and sesame. (Fast Tip: use a mixture of olive oil and vinegar on mixed vegetables, legumes, and other cooked vegetables for lunch or dinner).
Liquids Drink lots of water - You can be creative and use fruits or even some vegetables to add natural flavor. Drinking juice is allowed during the fast in addition to water. You should avoid drinking beverages containing caffeine, high sugar or alcohol.
All Soy foods such as tofu, TVP (textured veg protein), and other soy products. (Fast Tip: adding tofu to your vegetable will increase the protein value and flavor of your meal).
When using condiments, try to use fresh herbs and spices whenever possible. (Fast Tip: Spices like fresh ginger help with digestion)
How Do I Fast?
Whether this is your first time participating in a spiritual fast or your eleventh, spend time deciding which pace works for your spiritual and physical health*:
21-Day Daniel fast (No meat, sugar, bread | Eat fruits and vegetables, water, and juice)
21-Day Partial fast (Daniel fast from Sunrise to Sunset)
21-Day Full fast (Juice and water only)
*Use wisdom when beginning your fast; consult with your health care advisor before participating.
When does the fast begin?
The fast begins Monday, January 10th, and ends on Sunday, January 30th.


Each day during the fast, tune in to our podcast for daily guided prayer. This will be a time focused on a specific topic that will walk you through prayer and meditation each day. Download our podcast here, or click below to listen now.
We invite you to enjoy music during your fast that will prompt reflection, adoration, and gratitude. May you find it uplifting and refreshing during this time in God.